Regular price
Sale price
$16.99
Unit price
per
Sale
Sold out
A simple to use lanolin treatment to condition and replenish natural lanolin in your wool items. 
Lanolin is a natural conditioner that will keep your wool items naturally self-cleaning. Lanolin is anti-bacterial, anti-fungal and softens the fibers, and prevents pilling. Keeping your woolies conditioned allows them only need airing out in between uses. 
A great solution for any wool items.
A simple solution for re-lanolizing wool diaper covers that beginners and the more experienced will appreciate. 
Not thick and sticky, but a slight viscous liquid that can be easily mixed with water, or sprayed directly on. 
This has been the easiest lanolin treatment I have found.
Materials

Ingredients: lanolin, polysorbate, cetyl alcohol, citric acid, sodium benzonate, potassium sorbate, aqua.

No perfumes, skin and planet friendly.
No animal testings.

Made in Germany
Brand Info

DISANA
We believe in pure, unspoiled nature right from the moment we select our raw materials. Only organic cotton and organic pure new Merino wool which has been independently inspected and certified is used for our disana articles.
We are not only concerned about avoiding contaminants in the fibers of our thread: people's living conditions and environmental protection in the countries where they are cultivated are also important criteria we bear equal responsibility for, just like all the other links in the production chain.
We are a founding member of the International Association of Natural Textiles (IVN) and are committed to adhering to its guidelines for natural textile production; these are recognized as the most comprehensive, strictest guidelines in the world.
Care Instructions

After you have washed your wool item.

Add Disana Lanolin Conditioner to lukewarm water (around 77 degrees F). This can be in a bowl, a sink or a bath tub depending on the size of your wash.

Add the amount of lanolin needed for the amount of items you wish to lanolize. A general rule of thumb is about a pea size amount per wool item, a small pea for every day wool items like sweaters, and a more generous pea size amount for diaper covers.

Let the lanolin dissolve in the water, swirl it around.

Add your pre-washed woolies.

Gently swirl them through the lanolin soak and remove after a minute or two.

Air dry.

Gently press your wool in between layers of a tool by stepping on it, or you can put them into the washer and spin them (with out rinse) at a low speed.

Hang or lay flat to dry. Avoid hangers.

When wet, its also a good time to reshape your wool items if you feel the need to do that.

A note on wool diaper covers:
Lanolin is slightly acidic which neutralizes the alkalinity of urine. The lanolin ads self-cleansing, and anti-bacterial properties to wool. This allows wool diaper covers to be air dried in between uses. Over time the lanolin will have been used up, and will need to be replenished. This depends on how often the diaper cover gets wet or saturated. A thick cotton diaper means lanolizing less.
Share
View full details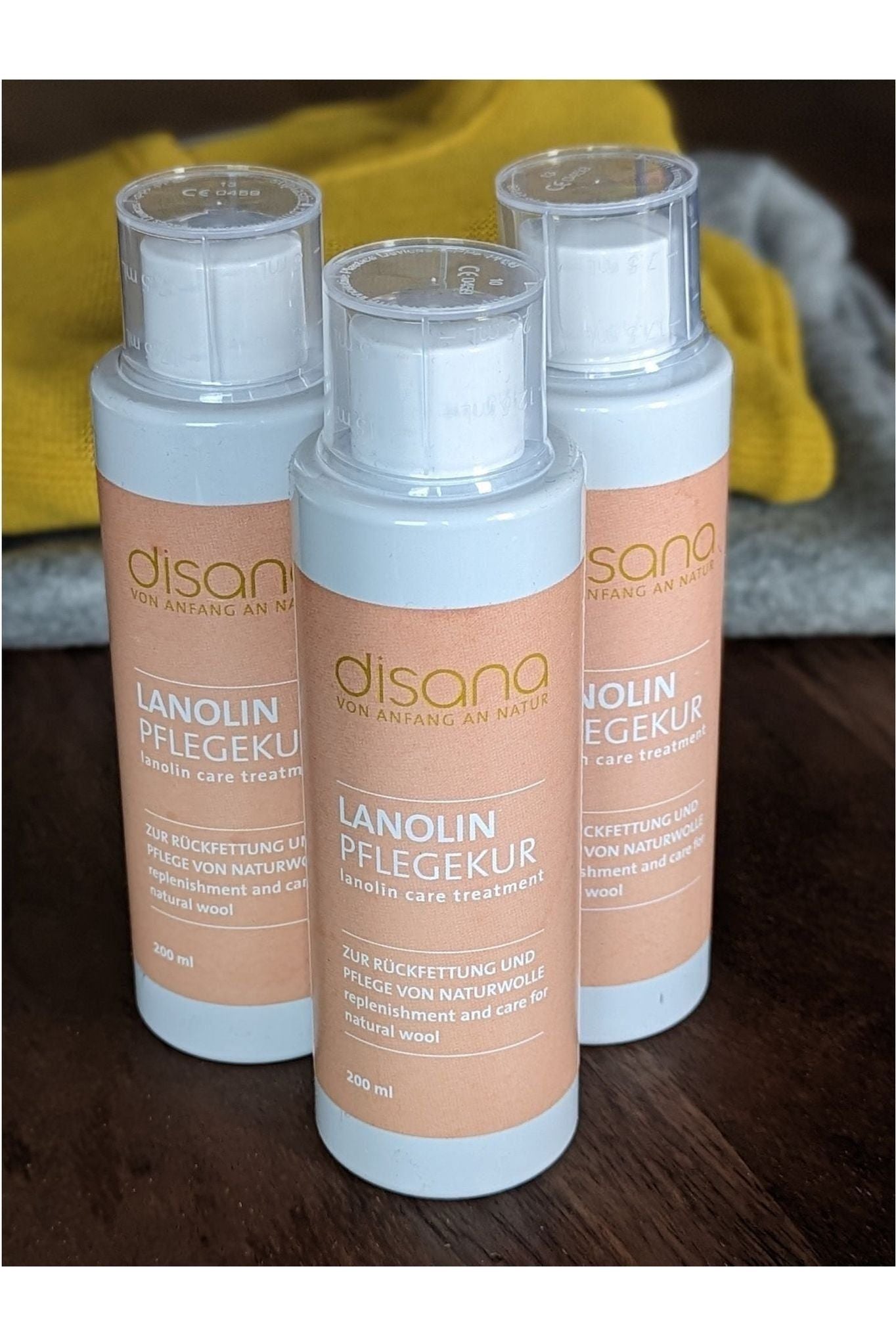 Limited Quantities Available

We focus on providing you with beautiful products that are in season and up to date. If you see something you love - make sure to claim it before it's gone. If a size or color you want is out - let us know, and we can see about getting it in for you.